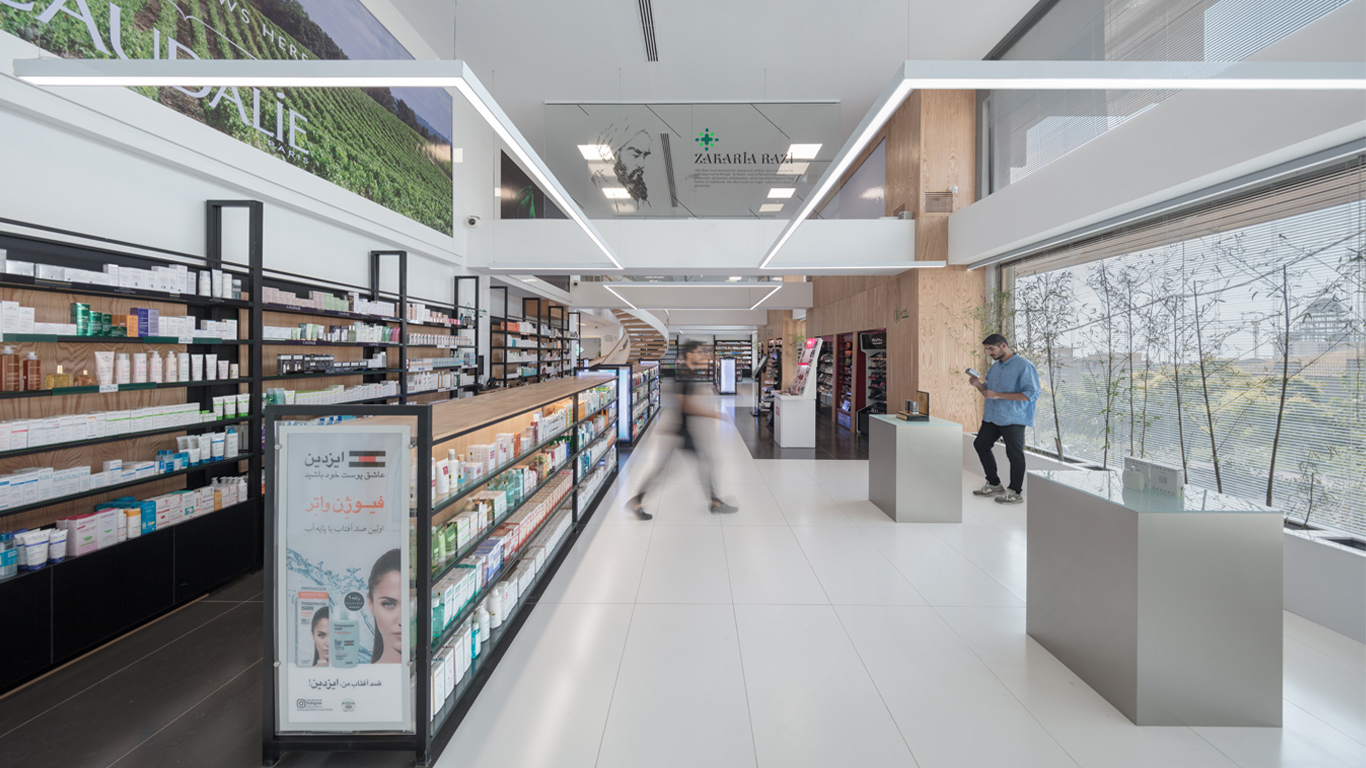 [vc_row center="no" cth_layout="portfolio_style7_wrap" autowidth="no" gallery_images="2546,2547,2548,2549,2550,2551,2552,2553,2554″][vc_column][monolit_post_title el_class="section-title"][vc_column_text][monolit_separator]
Rosha Pharmacy Interior Design
4 Architecture Studio
Architect: Mohammad Sadegh Afshar Taheri, Yousef Salehi, Kasra Shafieezadeh
Design Team: Shaghayegh Mousavi, Sara Bostanchi, Rana Siaghi, Milad Mosavat, Farshid Nasr Azadani
Area: 600 sqm
Photography: Peyman Amirghiasvand
The contact with a designed place such as a pharmacy is almost always a fast and short experience of the place without paying attention to the path as the result of emergencies. Not only does Rosha pharmacy provide people with these conditions considering the obvious space separation, but it also makes the opportunity to discover spaces and wander around meaning Rosha includes different spaces rather than the ones which exist in all other drugstores, adding more spatial and functional attraction.
Therefore, we came up with a design having the purpose of supplying quick and clear access to different parts as a must in a pharmacy, proper spatial separation and creating a desirable atmosphere which makes it a suitable place to stroll over.  Colors, green spaces, and materials like natural wood are things used on the equipment of the pharmacy, and this way we made our goals happen.
One of the entirely distinct features of this pharmacy is the special design of Open-shelf which means people can take a look at any type of products including pharmaceutical, health care products and …., no need for mediation, which brings customers the sense of freedom and intimacy. On top of that, the complex has a section related to handmade medicine where customers and patients can watch while their drugs are being made which we found interesting.
During the process of planning Rosha, having designed green spaces and get the most out of natural sunlight were of our priorities which resulted in a lively environment.
Part of the ground floor's lighting where it has double-height plus expose beams were some of the challenges we were facing in this project. As the consequence of having wide and open spaces first floor's lighting interferes ground floor's ones in the double-height part. Finally, we decided to locate some lightings on lower levels making the problem solved. Additionally, while designing mentioned beams we considered keeping the vision of first floor to ground floor consequently we chose to combine beams with glass tiles ended in spatial integrity.
Rosha pharmacy with the area of 600 m2 in 2 floors is located in karaj. The ground floor consists of public spaces such as "mother and child ", "open-shelf" and the second floor is for offices and specialized functions.
It is worth mentioning that we designed the project to supply initial spatial needs and provide people with fundamental and standard features of an appropriate pharmacy; furthermore, we have added some extra values to make people enjoy their short presence in Rosha. Eventually, Rosha pharmacy has become a place where interaction between doctors and people takes place in a friendly and informal manner.
Rosha Pharmacy Interior Design Project Photos on Instagram
[/vc_column_text][portfolio_nav][/vc_column][/vc_row]