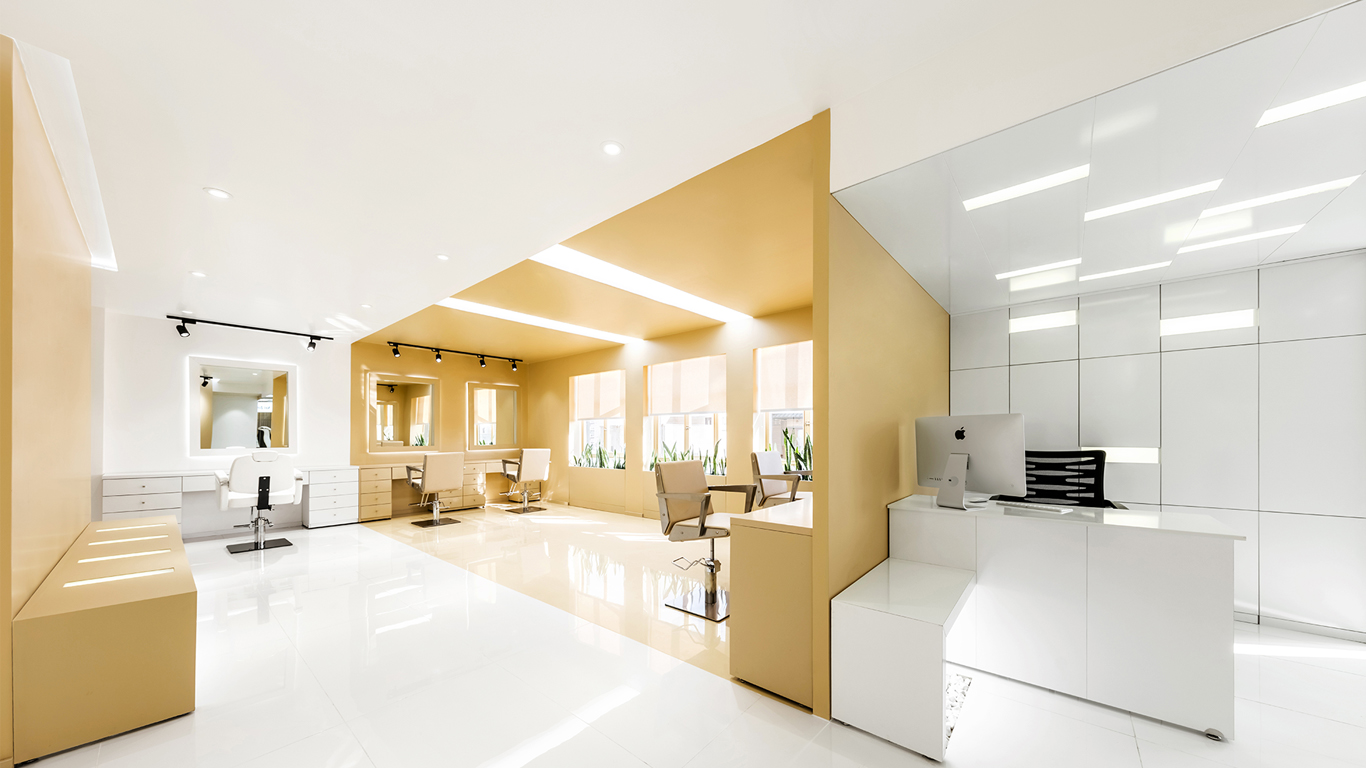 [vc_row center="no" cth_layout="portfolio_style7_wrap" autowidth="no" gallery_images="2347,2339,2337,2336,2338,2334,2346,2333,2345,2340,2335,2344,2341,2342,2343″][vc_column][monolit_post_title el_class="section-title"][vc_column_text][monolit_separator]
 Info
Shokrniya Beauty Salon Interior design
Architect: Kasra Shafieezadeh, Hossein Zeinaghaji, Mohammad Yousef Salehi, Aidin Voskah
Graphic: Negar Nabavi Tabatabaei, Aida Afsahi
Location: saadat abad,Tehran,Iran
Date: 2016
Area: 88 sqm
Status: Completed
Client: Mrs. Shokrniya
Photo: Hamoon Moghaddam
Shokrniya Beauty salon provides ladies with cosmetic and hygienic services. The project is located in SaadatAbad Street. The building seemed to be primarily Built for administrative affairs and the spaces could not meet the needs of a beauty salon and The employer aimed at a deluxe and inspiring environment in 88-meter square space to offer the services.
The main underlying idea of the Beauty Salon Interior design project is to produce separate spaces with different functions which are at the same time parts of a whole structure in the form of boxes in two colors. which differentiates the dirty and clean spaces. This boxes are closed or semi-closed without any acoustic or olfactory disturbances and The customer will have enough room to experience a private catwalk so it is possible to pass through some of the boxes but some others are just parts of the design.
The lights are designed according to the required standards as one of the effective factors to get access to the maximum space for cosmetic services. Choosing the Sansevieria plant to have a particular consideration to air conditioning have provided a friendly atmosphere.
CHALLENGE:
One of the challenges through the design was to choose an integrated flooring which is to be cleaned easily, and resistant against chemical detergents so We got through the problem by choosing epoxy after testing a variety of materials. The limited range of colors of different materials and choosing the target uniform beige color was another challenge. We overcame the issue by using the MDF color because it has the most limited color choices. Then we made epoxy and the wall paint color based on it. Finally, the color of the curtains and other instruments that placed in the beige boxes were chosen similar to the MDF color.
Silver A' Design Award winner 2016-2017 / Italy
[/vc_column_text][portfolio_nav][/vc_column][/vc_row]